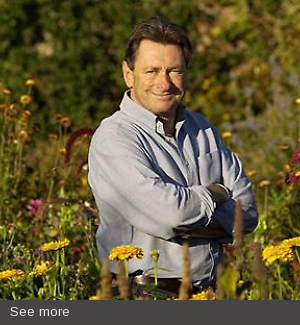 Alan Titchmarsh and his team of experts will travel the country to find the dream gardens we'd all like to have. Meeting the colourful characters that create these spaces, they'll show us how we can live the dream at home. Featuring the most beautiful domestic gardens in the country and celebrating the passionate people behind them, this enchanting series will change the way we look at our own humble backyards.
All of us dream of our perfect garden, whether it's a charming little cottage garden, a beautiful seaside garden, the perfect English rose garden, or even a self sustaining kitchen garden. But few of us know how to create them. Gardening programmes have traditionally appealed to those with lots of time and enthusiasm for learning techniques and plantsmanship. Today most of us want to better our gardens with minimal fuss. We want to be inspired by beautiful design and learn from passionate experts.
We want to see fascinating ways in which gardens are used, whether it's growing produce, entertaining and cooking, traditional crafts or encouraging wildlife. So Alan and his team will travel the country to find accessible, real life gardens that reflect this, uncovering wonderful sights and stories. But these aren't sprawling country estates or celebrated public gardens. We will film gardens that are of a size, and scale that reflects our viewers own gardens. We want the audience to be inspired to emulate the ideas they see in their modest plot. Whether you have a small patio, a 50 ft space or even just a humble window box, we will provide you with quick and easy ways to transform them.
Alan will visit beautiful but accessible gardens around the country and pick out the key qualities that make that garden special. He will also reveal how to "get the look". We'll learn the features needed to transform our own garden and where to go to buy the right plants, furniture or ornaments to make it happen. Its all you need to go to the garden centre on the Saturday and start building your own dream garden.
Meanwhile two other experts will look at other ways in which the garden is used. This could involve wildlife, food production or even local tradesman such as cider makers, vegetable growers or outdoor furniture craftspeople. Each story will be packed with tips on how you might try it at home, where to go to find local craftsmanship, or what to buy to try it yourself. Our experts will be drawn from a group of gardeners, food experts, wildlife experts and crafts experts, whose specialist skills will be appropriate to the story.
"Love Your Garden" is looking for the support of the gardening industry to help us make the series.
The Baskit Geni as seen on "Love Your Garden" with Alan Titchmarsh and "The Alan Tichmarsh show"